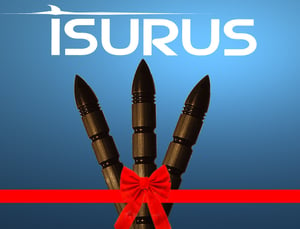 $

12.00
The "Shark" Keychain is the unique and thoughtful gift that works- for Him AND for Her! Do your shopping early and don't miss this amazing deal. Don't forget, that if you're interest in buying in bulk, please contact me directly. (gtsworkshops@gmail.com)
The Isurus "Shark" Keychain is a self-protection tool of the highest caliber. Easily concealable, lightweight and extremely durable, it fashions itself well - not only a highly practical protection tool - but also as a handsome keychain, parcel opener, window breaker, etc.
The Isurus™ Self-Defense Keychains were designed after the Mako Shark (Genus name: "Isurus"). The keychain measures just at 5 inches long and has a diameter of 0.5 inches. Made of machined aluminum and designed specifically for defense by self-protection specialist, Michael Joyce.
Available in standard Black
(Pink will return sometime in 2014, but in limited supply)
Free Downloadable Manual
https://www.box.com/s/9i7c0uqhqeowymykaz8q
Hybrid Fighting Method Testimonial (video)
http://ow.ly/r7mo1
Informational Page
http://ow.ly/r7mJq
Official Isurus Trailer
http://ow.ly/r7myj
Official Isurus Trialer (version 2)
http://ow.ly/r7mEv
Disclaimer: The Isurus™ Keychains are to be used for self-defense only! Train smart, stay safe!