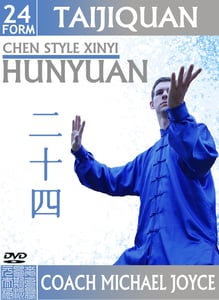 $

10.00 - On Sale
Take the journey of Taijiquan with Coach Joyce as he demonstrates the beautiful and therapeutic movements of Hunyuan Tai Chi Chuan (Taijiquan). Hunyuan Taijiquan was created by Grandmaster Feng Zhiqiang of Beijing, China. Performed by Coach Michael Joyce (senior student of Master Chen Zhonghua). Included is a short segment on Qigong, as well as slow motion capturing and alternate angles. Shot on location at the beautiful Arboretum at the University of North Carolina at Chapel Hill. Perfect for beginners-advanced.
This 24-Posture form is the "class form" for Coach Joyce's classes in taijiquan and provides the essential components of Chen Style Taijiquan. Newly updated and expanded with brand new, high definition footage.
FILMED IN HD / COLOR / Approx. 1 hr.